New Britain Stadium
New Britain, CT
New Britain Stadium is the home of the New Britain Bees of the Futures Collegiate Baseball League. Built in 1996, the stadium was constructed for the Rock Cats of the Eastern League and sits right next to their old ballpark, Beehive Field. It's the closest I have ever seen two baseball stadiums next to each other. When the Rock Cats left town to become the Hartford Yard Goats in the brand spanking new Dunkin Donuts Park just 23 minutes away, the Bees buzzed into this cavernous stadium.
On the Tuesday night in August when we attended, we found the ballpark to be eerily quiet and devoid of much excitement, aka people. With a threat of rain and neither the Bees nor their opponent, the fledgling High Point Rockers, in any sort of playoff race, New Britain stadium seemed to be the last place anyone but the 300 or so fans wanted to be. Interestingly enough, the announced attendance was 2,260, but that was, quite frankly, absurd.
Fittingly, the newish cool black, white and gold paint job and honey-combed motif adorning the concourse nicely reflected the Bees colors and was emblematic of New Britain's once-proud moniker, The Hardware City. It probably doesn't hurt that the Stanley tool company uses the same color scheme and has its headquarters here. Sadly, the paint project did not include much inside the ball field itself as the outfield walls did not have quite enough ads to cover the ancient green paint.
With not much going on in the manner of mid-inning entertainments (every other inning or so) and Sting the Mascot actually sitting and watching the game to keep cool, I took it upon myself to say, "Hey Frank!" to former '86 Met, Frank Viola, the pitching coach of the Rockers. He retorted with a friendly, "How's it going?" I told him that I was well and left him to his work. It was all I needed.
The ballpark holds 6,000+ fans, but seemed much larger tonight as foul balls hit into the stands just waited to eventually be picked up. The merry-go-round near the right field foul pole was closed and encased in chain link to keep it from escaping. As I walked around the concourse, I found almost every employee to be at their station waiting for something to do. It seemed a shame that a better effort wasn't put forth to draw more folks to the game. Perhaps offering free tickets or dollar beers may entice the locals to come see the Bees, if only to put a couple dozen more butts in the comfy seats. Bee-ware, there is plenty of parking, but you have to pay for it. On a good note, there are no long lines at the concession stands.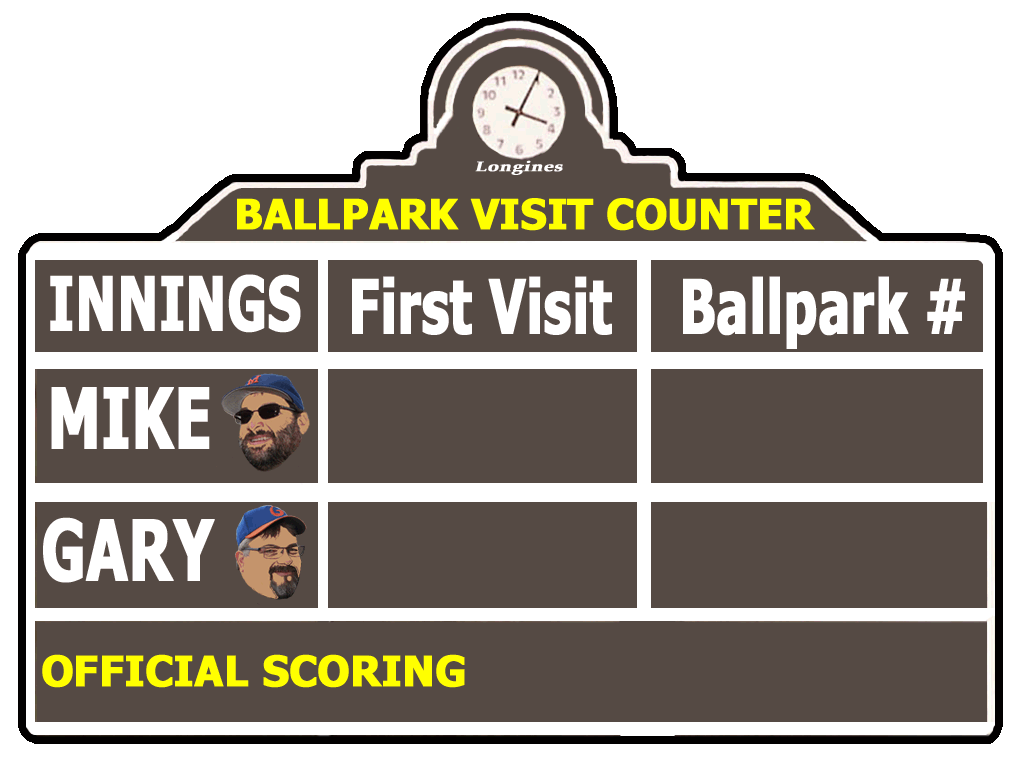 Mike says...
"In my Fields of Dreams review of New Britain Stadium from 1998, I noted that this ballpark was built around the same time as other, much nicer, minor league parks were going up with luxury boxes, open concourses and urban locations. New Britain apparently was not cc'd on the memo. I summed up by saying that New Britain Stadium is entirely unremarkable, but completely adequate. One memorable note is that this is the only stadium where I traveled a distance to see the game only to be turned away because it was sold out. It took two trips to see a game in New Britain and it was hardly worth it. As a result, more than 20 years later, whenever I go to a ballgame without an advance ticket, I suffer a chronic twinge of anxiety over the availability of tickets. Thanks, New Britain…"
Neighboring Beehive Field in 2019, and...
...Beehive Field in 1998.
Beehive was the best minor league stadium I have ever been to! Although it may not look like much, I can remember seeing tons of great games, and players there. I have personally caught nearly 4 foul balls there also. When the Red Sox were there I remember seeing people like Bernie Williams, and Jeff Bagwell. They were the players that everyone went out to see... it's a great venue to see some prospects! At $2.00 a seat for children, and maybe $4 for adults, you really couldn't beat going out to a game!
- John