Ripken Stadium
Aberdeen, MD
After making dozens of trips from my home in northern Virginia to friends in the northeast, I finally made it a point to stop in for a morning game at Ripken Stadium in Aberdeen, MD, home of Cal Ripken Jr.'s Aberdeen Ironbirds. The team nickname is a combination of the team owner, baseball's "Iron" Man himself, and the "Birds" of Baltimore where Cal Jr. spent his entire major league career. Why build a 6,300 seat stadium in a small Maryland town of about 15,000, just minutes from the mighty Susquehanna River? Well, Aberdeen is Ripken's hometown. The Ironbirds began play here in 2002 shortly after the season began, but they did play some of their home games that year at nearby Thomas Run Park on the campus of Harford Community College.
Upon entering Ripken Stadium, I was actually a little let down by the cookie-cutter look of the interior. There were some photos of Cal, his father and brother from their playing days adorning the walls behind the home plate concourse and Oriole orange painted all around the outfield (including the foul poles), but the stadium lacked any punch. I sat in a variety of seating areas during the course of the game as there were of plenty of seats available, despite the Ironbirds boast that "every home game has sold out consecutively since 2002". While not every seat would be "filled" for today's game, I was glad that my purchase contributed to the streak's continuance. After all, what's a stadium named "Ripken" without a good streak.
Sporting one of the coolest logos as of this writing (2017), the Ironbirds compete in the South Atlantic League and their stadium is visible on the western side of I-95, part of the Aberdeen Sports Complex, which includes several smaller fields for local youth sports leagues. An adjacent hotel sits just behind the left field side of the stadium and looks somewhat like a certain warehouse adjacent to Camden Yards in Baltimore.
What made my visit to Ripken Stadium truly memorable were the ushers. The first gentleman I met, upon telling him that I enjoyed seeing games all over the U.S., proudly exclaimed, "This stadium has some of the best ushers in the country." I did not catch his name, but later I met Ali, who went out of her way to take me up to the 2nd level luxury suites to get some great photos and see local Baltimore sports memorabilia in glass cases. I think these mementos from the Ripken's playing days as well as Negro League and Aberdeen history should be on display on the main level for ALL fans to see, but I was grateful that Ali took me up there on a personal tour.
Ali then introduced me to Bruce, another usher and longtime Oriole fan. He delighted in telling me of games he attended as a kid at Memorial Stadium, how is son was playing in a baseball clinic at the Ripken Experience fields next door and how he loved getting paid to be around the organization that he has loved since his childhood. Thanks to Ali and Bruce for taking the time out to visit with me! As our reviews are more about the experience of a stadium and not necessarily the ballpark itself, I award extra hot dogs for the ushers and the adjacent ball fields. When you visit Ripken Stadium, be sure to ask for Ali and Bruce. They were awesome!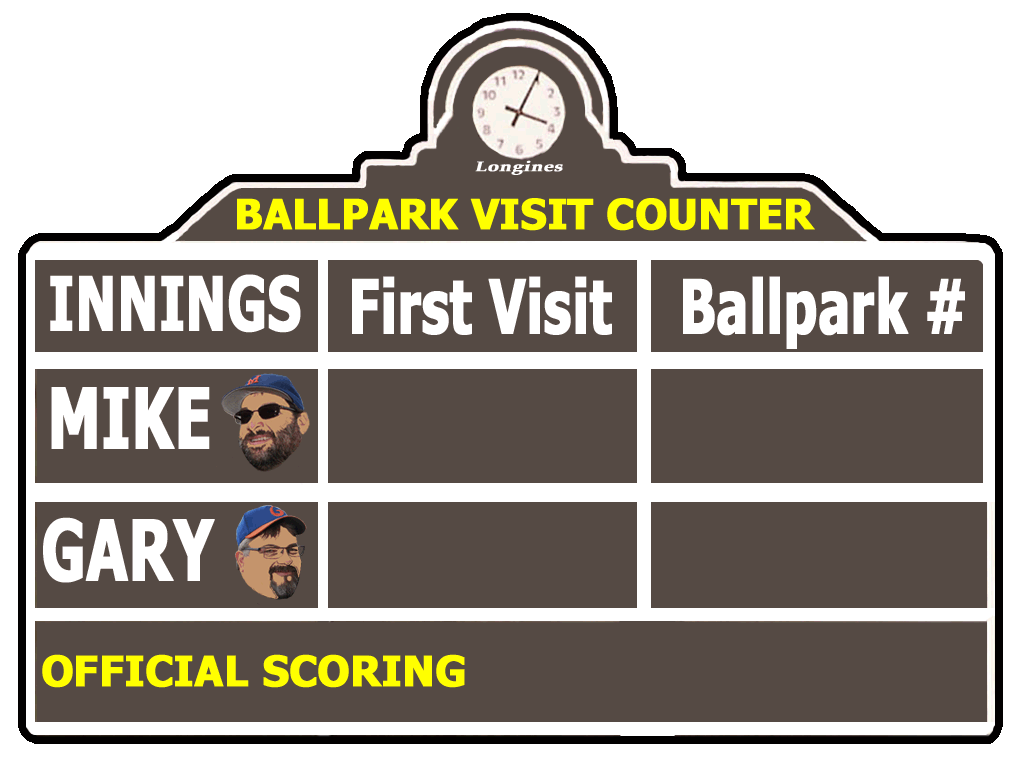 Over at the Ripken Experience fields, I was impressed with "Cal Sr.'s Yard", a miniature replica of Camden Yards, with the aforementioned hotel in the same spot beyond the right field fence! Since the hotel was built first, why couldn't Ripken Field have been built where this youth league park stands as both fields face in the same direction? Why not erect the minor league park to look like the stadium Cal Jr played the last part of his consecutive game streak? Perplexed, I moved on to check out the other youth fields, namely Wrigley with plastic green strips woven into the outfield fences to emulate ivy and Fenway with its Green Monster-esque left field wall. All very cool ball fields that I would have loved to play baseball on.