Five County Stadium
Zebulon, NC
Zebulon, North Carolina was stop number four of our 8-ballpark Road Trip Carolina tour in late April 2015. Looking forward to seeing a Carolina Mudcats ballgame during the 25th anniversary of the team's existence, we made our way to the ballpark on a Saturday morning under gray skies. The ballpark's remote location was chosen primarily to separate itself from territories of the two other minor league ballparks in the area, in Durham and Greensboro.
The major addition to Five County Stadium for the 2015 season was the then-biggest widescreen video board in the Minor Leagues. At 82 feet wide and 34 feet high, the Mudcats' owner would call this monolithic scoreboard "Mudzilla". A water tower in the distance proudly sports the Mudcats logo, guiding fans to the game.
The Mudcats began play at Five County Stadium on July 3, 1991, after weather delayed construction. As a result, the owners were eager to have the ballpark ready quickly, so they opted to build the grandstand using metal for its base instead of cement. In 1999, the metal structure was replaced with concrete along with other renovations. The main seating area features five rows of field level seating with a massive second level of seats that rests ten feet above the field level and rises 14-15 steep rows into the sky. At the top of this second deck is an air-conditioned restaurant on the first base side with a press box and luxury seats that are also high above the playing field.
A very spacious concourse underneath the 2nd level looked to provide ample space for fans to get their favorite food and beverages, that cool collectible Mudcats ball cap, or provide respite from the hot Carolina League's sun. Sadly, Mike and I would not get to enjoy the cool new scoreboard, sit in one of the 6,500 seats or even grab a hot dog on this day. After a relatively easy commute to the ballpark, we discovered that the game had been cancelled due to unplayable field conditions following heavy rain the night before.
Fortunately, a very nice employee, who was in the midst of closing the gates to lock up the park, allowed us quick access to snap some photos of Five County Stadium. This gesture of kindness earns the park an extra half dog as we hurriedly took in the tarp-covered field before moving on to our next destination.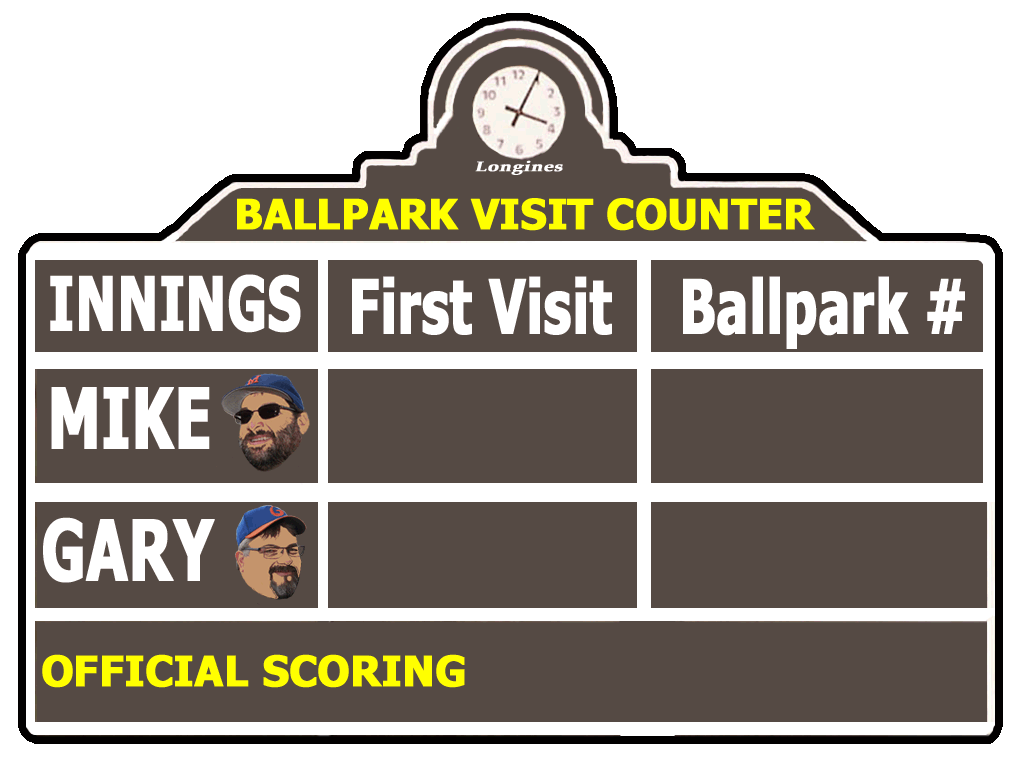 Mike says...
"All of the folks at Five County were very kind, welcoming us into the office, chatting for a while, and even giving us some stickers and other swag. The ballpark gets an extra half dog from me for it's unique look and bright red seats."